Message from the President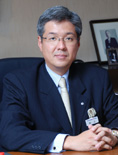 We appreciate your interest in TOMOEGAWA, and visit to our home page.
 Through its 100 years of history, TOMOEGAWA has expanded its business field from the founding business of specialty paper to a wide variety of products. Our current products include polypropylene laminated insulation paper that can insulate ultra-high voltage, magnetic sheet materials, printer toners, lead frame fixing tape used in semiconductor production, and optical film for flat panel displays. Currently, plastic material processing business such as toner, lead frame tape and optical film, accounts for more than 60% of our total revenue. This business diversity is the most advantageous point that enables us to meet various needs from customers in a broad range of industry segments.
 We, Tomoegawa group, will be built on our "pioneering spirit", and continue to improve our competitive edge in electronic property analysis techniques and production technologies of adhesives, fine particles, coating, and paper. With innovative R&D activities and highly advanced production processes, TOMOEGAWA will always pursue to provide valuable services that fully satisfy our customer needs.
 Moving into the 21st century, we TOMOEGAWA have accelerated overseas expansion. Revenue from overseas markets has exceeded 30% of our sales, and overseas production is increasing steadily.
 The company will celebrate our 100th anniversary of foundation on June 19, 2014. As the best business partner for customer's growth and success, we will continue to develop products and services that answer the needs of the time.
 TOMOEGAWA, proud of our sincerity and innovative nature, would like to work with you and contribute to your success and prosperity. We are waiting your contact.
President and CEO