Message from the President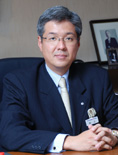 We appreciate your interest in TOMOEGAWA, and visit to our website.
 In more than 100 years of our history, TOMOEGAWA group has been developing a wide range of business formats to meet the needs of the times. We started our business as "the manufacturer of specialty paper", with our founding business of insulation and telecommunications paper production. Then we expanded our business to the field of the production of thermal recording paper, magnetic ticket, etc., and became known as "the manufacturer of recording paper." After we launched our lead frame fixing tape by utilizing our insulation technology which became the de facto standard of the industry, we are called "TOMOEGAWA, the electronic material maker." The phrase "TOMOEGAWA, the optical film provider for flat panel displays" followed for our business of adhesive film with our clean coating technology used on liquid crystal and plasma display devices, etc. Currently we aim to be known as "TOMOEGAWA, the high-functional material maker" unleashed from the framework of our paper manufacturing company. Our businesses have been and are based on our four core technologies "paper making, specialty coating, powder control, and adhesive" in conjunction with the underlying technology for assessing and controlling their electrical properties.
 As the growing trend of "IoT", or the Internet of Things becomes more prevalent, many of the electronic components today are required to have the capacity of controlling high voltage, large electric current and high frequency. In order to meet those needs, we have launched a new brand called "iCas" as a new product series that will contribute to the prevention of malfunction of electronic devices by combining our advantageous know-hows on electric properties, paper making and specialty coating technologies. We are currently expanding our "iCas" brand product lineup and will offer diverse solutions to protect electronic devices from heat and electromagnetic wave noise to enable the best use of their intended functions.
 As for TOMOEGAWA's global presence, in addition to operating the worldwide toner production site network in Japan, North America and China, as "the world's number one independent toner manufacturer", we have purchased a paper mill in India and transformed it to our subsidiary TOMOEGAWA Aura India Pvt. Ltd. in April 2016, as part of the acceleration effort on our overseas expansion.
 With "frontier spirit", one of our founding spirits, we will continue to pursue high value services that will satisfy our customers, to work as the customers' best partner that enables their business success and growth, and to launch products that will meet future global demands.
 We do wish you to try TOMOEGAWA and its products, which are reliable and innovative.
President and CEO