CSR
Message from the President
To create new value that meets the needs of the times, TOMOEGAWA is making various changes and increasing our speed on them.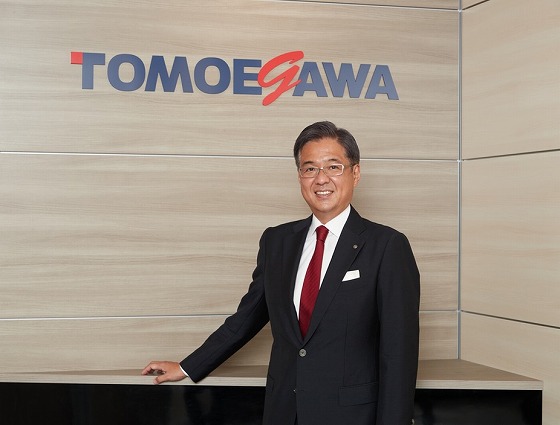 The principles of TOMOEGAWA business activities are summarized in the following "Founding Spirit."
Integrity
We act with the highest integrity in both our professional dealings and personal relationships
Contributing to Society
We make positive contribution to society through our business activities.
Pioneering Spirit
We commit to our work with a pioneering spirit.

Based on this founding spirit, we aim to be a "global scale Innovation-oriented company" who provides necessary support for customers' success and development as their best partner, and continue to create new value that meets the needs of the times.
The Fiscal Year 2020 was the year the World faced the major impact of the new corona virus infection (COVID-19) threat.
In order to respond to the COVID-19 rapid environmental changes, we have decisively implemented the following structural reforms on our business operations;
Closure of US toner factory
Consolidation of paper milling facilities
Aggregation of sales offices, etc.
So far, TOMOEGAWA and its group companies are able to avoid major impact from COVID-19 infection, thanks to the group-wide infection prevention effort. And, we will continue to work on adaptation and improvement of this crisis management measures.
As for our efforts to promote SDGs, our basic strategy as the "innovation-oriented company" is to contribute through the development of environmental-burden-reducing new products, such as the environment-friendly new resin product "GREEN CHIP CMF", which contains cellulose microfibers. Also, the "iCas" brand products with improved heat and electricity control performance can contribute to the reduction of energy consumption, once they are adapted by customers.
We will continue the contribution to local society through the forest management activities we have been conducting since the conclusion of WWII. The expected effects of such activities are CO2 absorption, forest conservation and flood control.
Our continuous effort to promote compliance, employees' safety and health, human resource development, and human resources diversification, can be seen at TOMOEGAWA website.
TOMOEGAWA takes the importance of communication with all of our stakeholders very seriously, and will further strengthen its relationship with them through the fulfillment of our accountability.
Your continued guidance, encouragement, and support will be gratefully appreciated.
President and CEO