In TOMOEGAWA, in addition to environment-friendly materials procurement and environmental contribution activities, we have company-owned forests in the Kumano-Sanchi Mountains, which are famous as World Heritages, and are actively engaged in conservation and nurturing activities.
In addition, as part of our efforts to protect the local environment, all of our business sites are making efforts to clean up areas around their business sites and plants, conserve energy, and properly dispose of wastewater.
In addition, in accordance with various laws and international rules, such as chemical substances and security export controls, we have established a thorough management system for the entire supply chain, from raw materials to products, distribution and disposal.
Forest development activities
Forests have a variety of functions, such as national land conservation, water source cultivation, preservation of living environments, provision of places for health and rest, and supply of forest products such as wood. TOMOEGAWA has 3,031 hectares of company-owned forests in the Kii Peninsula of Wakayama, Mie, and Nara prefectures, and carries out environmental conservation activities through forest cultivation.
Forests are grown by repeating multiple tasks over a long period of time and are supplied as forest products such as timber. At TOMOEGAWA's forests, we are working to create healthy forests by systematically mowing, thinning, pruning, and thinning trees of the Japanese cedar and cypress trees that have been planted.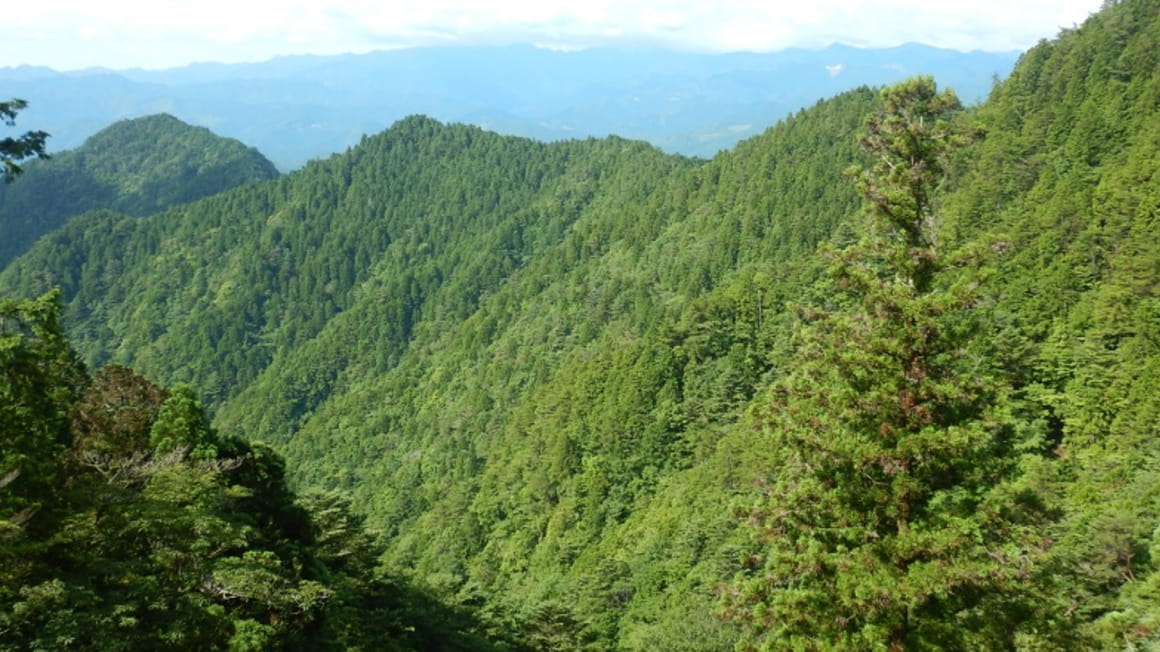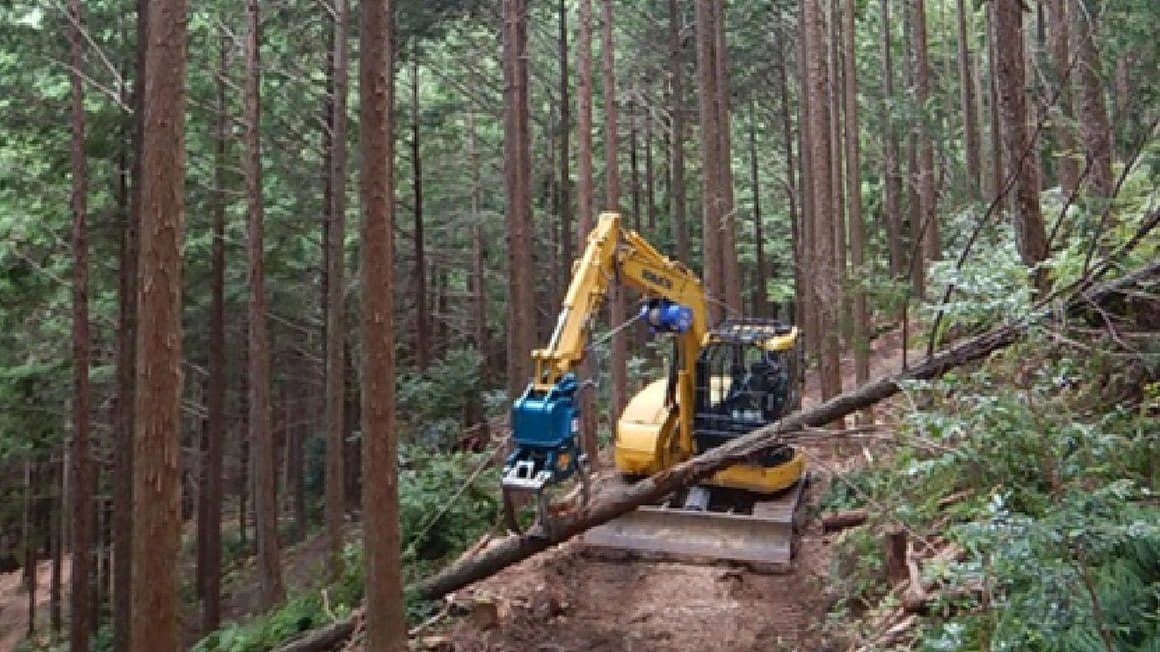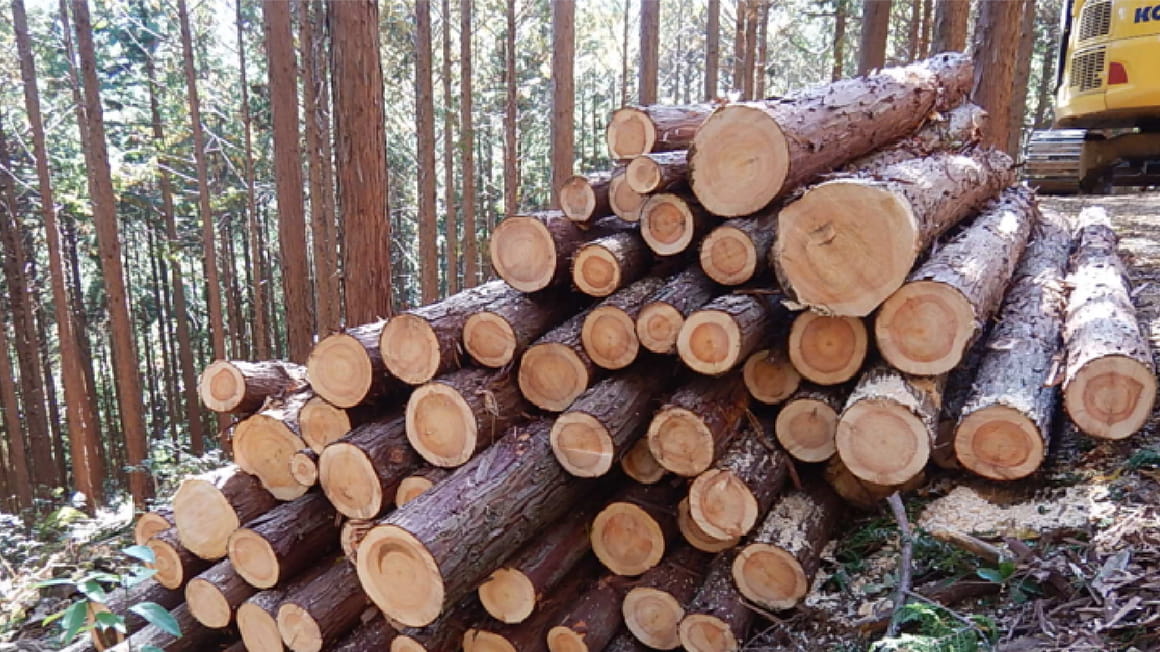 Responsible procurement of raw materials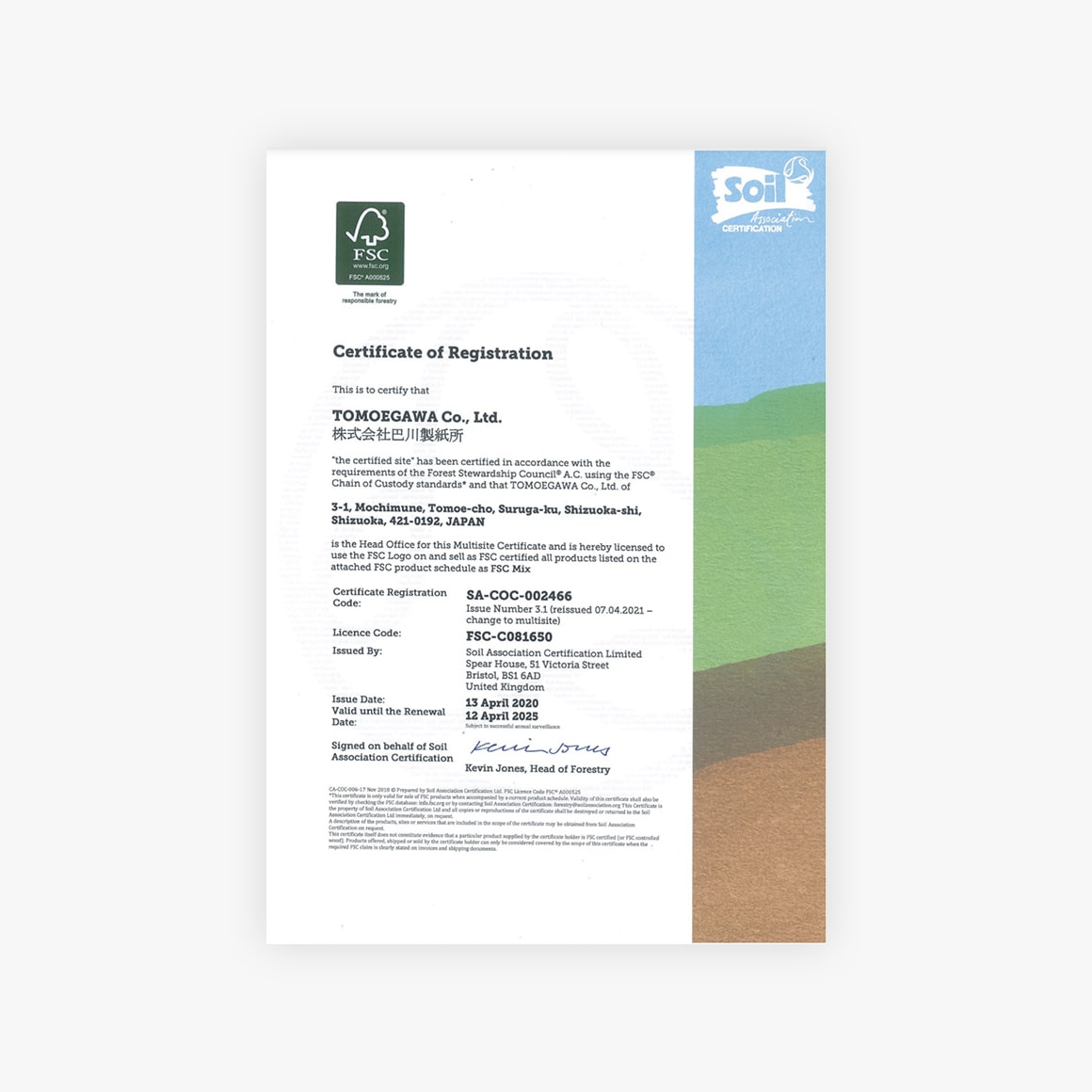 In TOMOEGAWA, we are working to promote environmental conservation and sustainable forest management through the procurement of a raw material for papermaking products. Some of our products FSC ® (Forest Stewardship Council ®) certification, a worldwide forest management certification system. (FSC®C081650)
Adoption policy statements that encompass the FSC core labour requirements
TOMOEGAWA expresses the following policy.
The organization shall not use child labour.
The organization shall eliminate all forms of forced and compulsory labour.
The organization shall ensure that there is no discrimination in employment and occupation.
The organization shall respect freedom of association and the effective right to collective bargaining.
TOMOEGAWA's SDGs Initiatives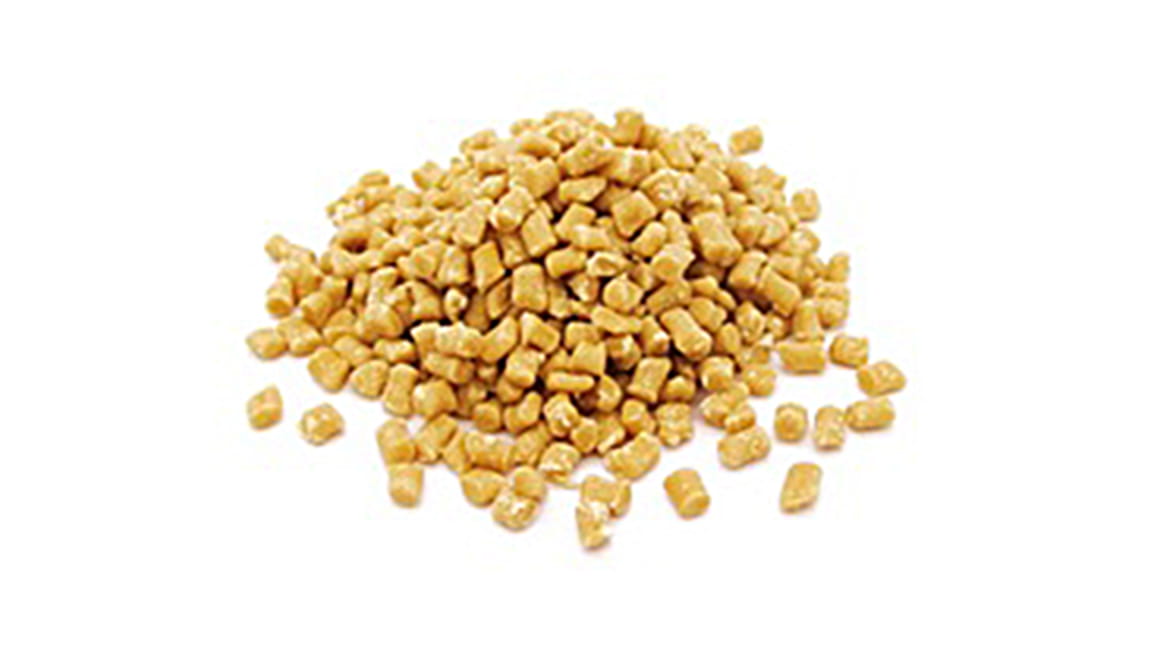 TOMOEGAWA is developing and expanding products that are compatible with SDGs mainly related to the environment. In addition to giving consideration to the environment in the manufacture of products, such as raw materials, energy conservation, and CO ₂ emission control and reduction, we will promote the development of the products that contribute to sanitation improvement, measures against harmful chemical substances, waste reduction, coastal and marine conservation, and environmentally friendly technologies and industrial processes.
SDGs : Sustainable development goals. These are the international goal from 2016 to 2030, which was stated in the "2030 Agenda for Sustainable Development" adopted at the United Nations Summit in September 2015.
Energy conservation efforts
Since TOMOEGAWA is engaged in production activities using a large amount of energy, such as electricity and gas, we have been implementing full-scale energy conservation activities since fiscal 2011 to reduce waste and promote efficient use of energy. In the past, we have improved the efficiency of our facilities by replacing them with new facilities that consume less energy, and by consolidating facilities that consume a large amount of energy.
Since fiscal 2019, we are working to improve the efficiency of the cogeneration system * (gas engine power generation facility). Specifically, part of the thermal energy discarded as hot water was recovered by a heat exchanger, and it was used to warm water for boilers.
Cogeneration system : A system that simultaneously produces and supplies multiple types of energy. This is a system that uses a power generator to generate electricity and then recovers the heat and hot water discharged during power generation for reuse without waste.
Environmental management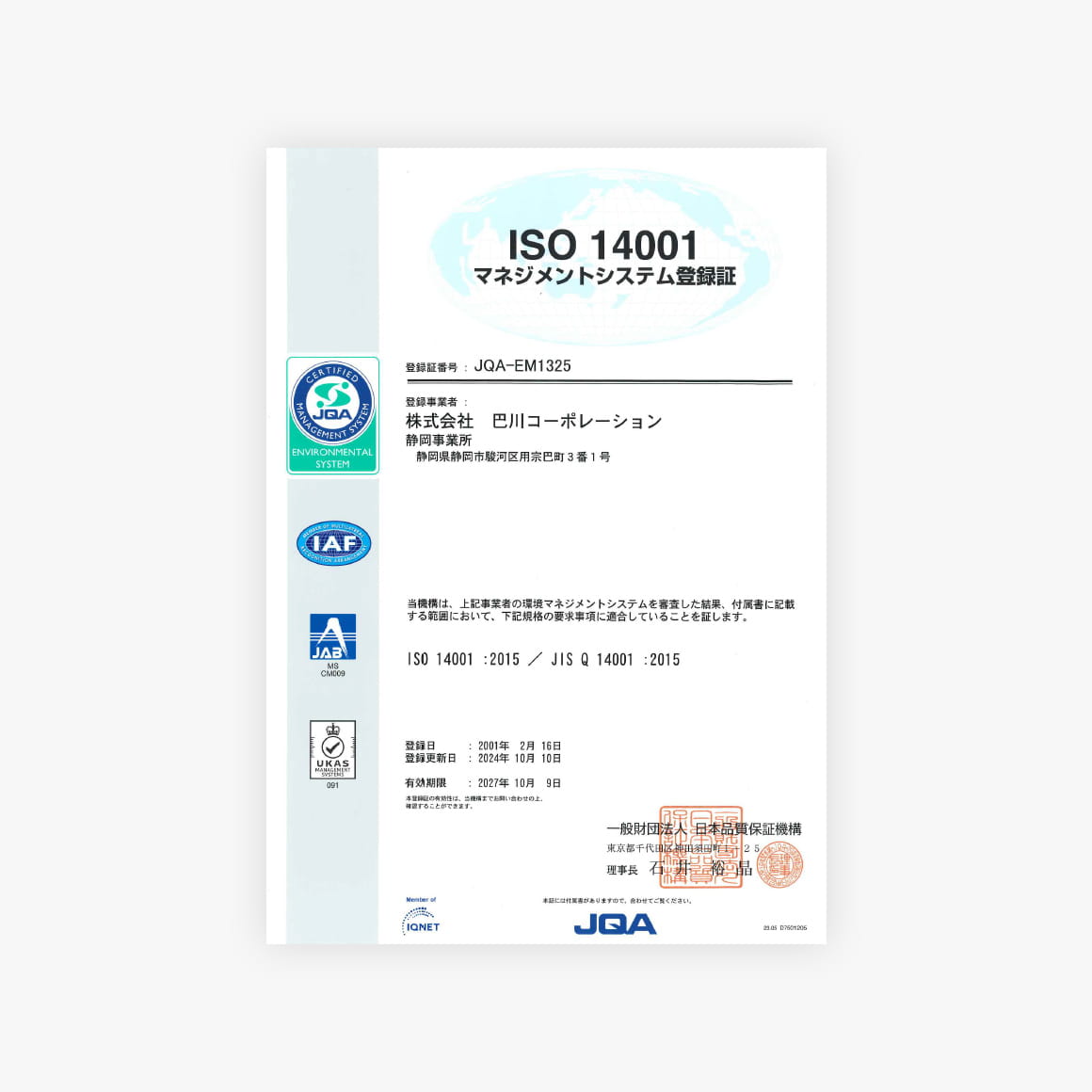 In order to provide our customers, local residents and other stakeholders with satisfaction through our business activities, TOMOEGAWA has been continuously improving the quality of its business operations and improving its consideration for the global environment through the operation of the world standard environmental management system (ISO14001).