Technology
Production/equipment
Pursuing "3M" ( Man, Material, and Machine) in order to improve "manufacturing"
Manufacturing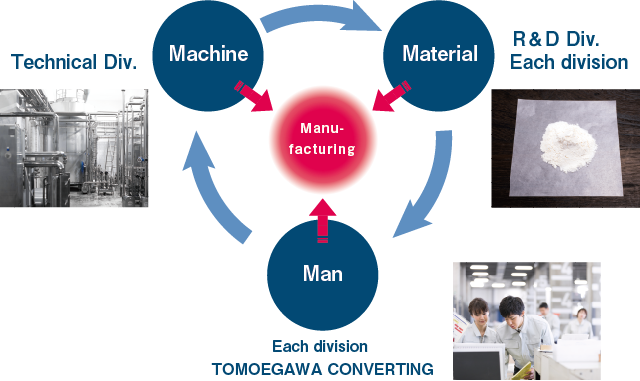 At the manufacturing site of TOMOEGAWA, "Technology Division" is that plays a part in "3M" in terms of facilities.We are motivated to enhance the functionality and quality of our products through the trinity of each business division / development division responsible for prescription technology / business planning (what to make) and each business division / Tomoegawa converting Co.,Ltd. responsible for process Technology (how to make).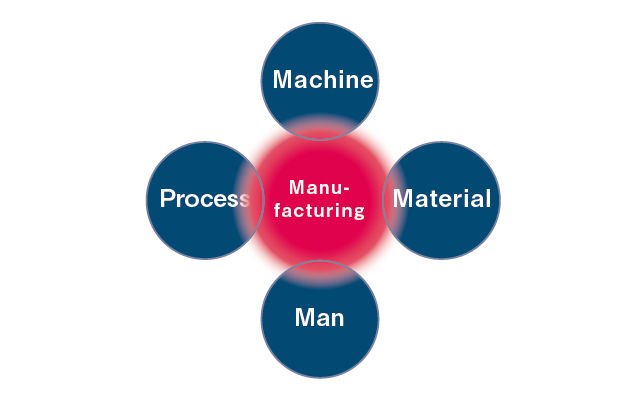 Underlying "manufacturing capabilities" requires facility technologies and process technologies that are the two wheels of manufacturing technologies.
It is difficult to make a clear distinction, but mainly facility technologies are technologies that improve "tools" and process technologies are technologies that improve "methods."To enhance better both facility technologies and process technologies strengthen our internationally competitive "manufacturing capabilities" and are a major driving force for producing high-performance, high-value-added products (major products) that are the core of TOMOEGAWA.
Human resource development responsible for manufacturing and facility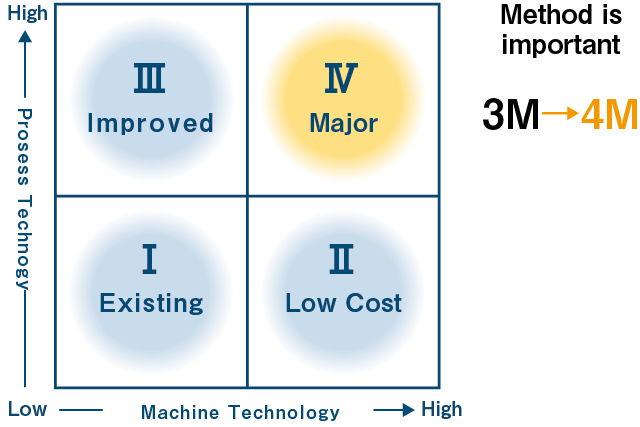 By making full use of a wide range of coating technologies, papermaking technologies, and dispersion / classification technologies, TOMOEGAWA will continue to improve their level and integrate these technologies. In addition, we will refine our existing processing technologies such as slitting, cutting, laminating and surface treatment to enhance our lineup of more efficient and highly functional manufacturing facilities. Under these circumstances, we will promote the sharing, systematization, and lateral development of the technologies and know-how that have been cultivated over 100 years since the company was founded, and create an environment in which knowledge, skills, and techniques are accumulated and handed down permanently. In addition, we are improving the technical level necessary for these "manufacturing" and promoting the development of autonomous human resources who can make full use of a wide range of technologies.