Technology
Analysis / evaluation
We support product development and quality maintenance by making full use of various analysis technologies
In order to support product development, process inspection, and quality assurance of our wide range of product group, we are evolving not only paper, but also resin, rubber, and toxic substances analysis technologies. Tomoegawa Analysis Center is actively engaged in outsourcing to help our customers.
Tomoegawa Analysis Center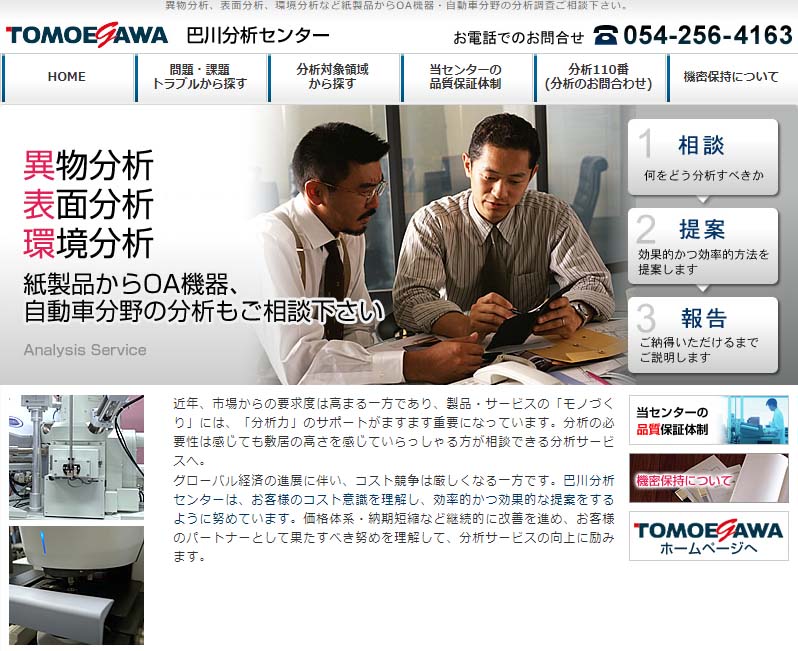 Tomoegawa Analysis Center is the analysis department of the Tomoegawa Paper, which has been in business for over 100 years.

We analyze not only paper, magnetism, powder and electronic materials, but also the "iCas" field, which is a heat, electric and magnetic wave control material. We also accumulate and study these technologies.

Tomoegawa Analysis Center website(Japanese version only)
Tomoegawa Analysis Center Main evaluation equipment and measurement examples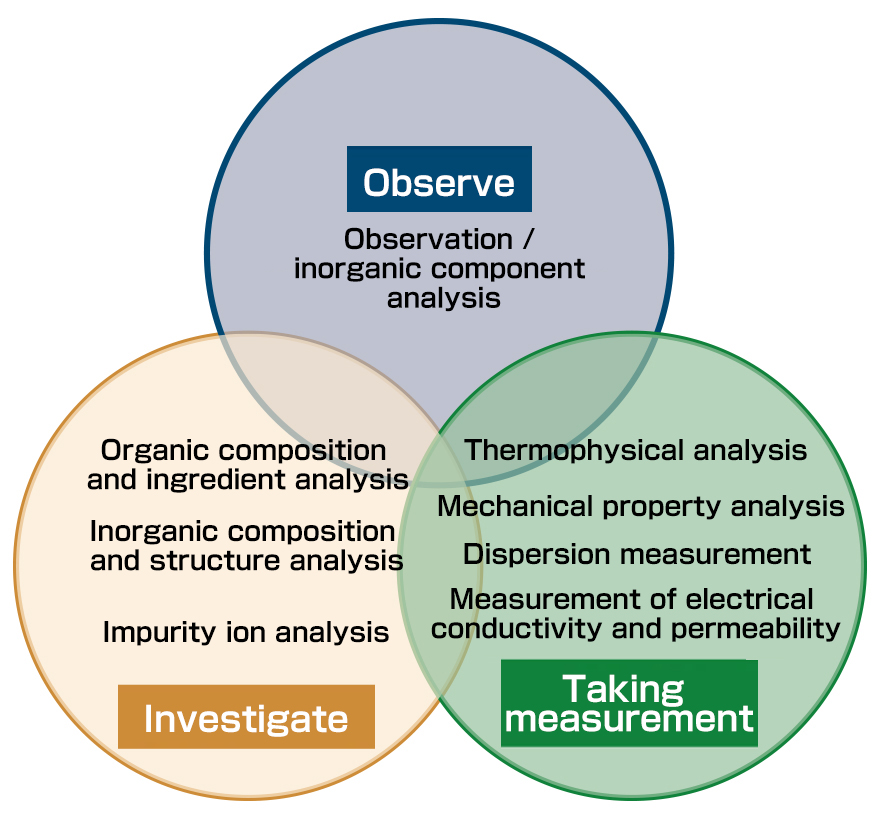 We consult with our customers and propose appropriate analysis designs by combining various evaluation devices and the requested measurement and analysis.
Observe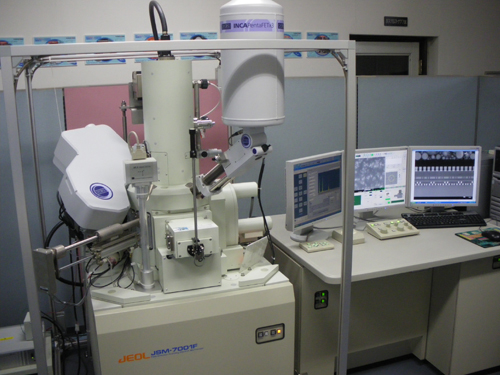 We observe the laminated form and minute contaminants by making full use of optical microscope, electron microscope, etc. In particular, our unique section processing technology can provide images that are both speedy and faithful to the real sample.
Analysis type
Device name
Measurement content
Observation / inorganic component analysis
FIB processing equipment (Focused Ion Beam and Scanning Ion Microscope)
Micro region processing and observation
FE / SEM-EDS · WDS (FE type Scanning Electron Microscope)
Micro area observation
W / SEM-EDS (Tungsten type Scanning Electron Microscope)
Micro area observation
Laser microscope
Observation surface shape / roughness analysis
SPM (Scanning Probe Microscope)
Micro area observation (surface area and surface roughness)
Digital microscope
Surface observation
Optical microscope
Surface observation
CP (ion polisher)
Micro field processing device
Cryo CP (cooling ion polisher)
Micro field processing device
Diamond wire saw
Micro field processing device
Ultra microtome
Micro field processing device
Semi-automatic grinding device
Micro field processing device
Investigate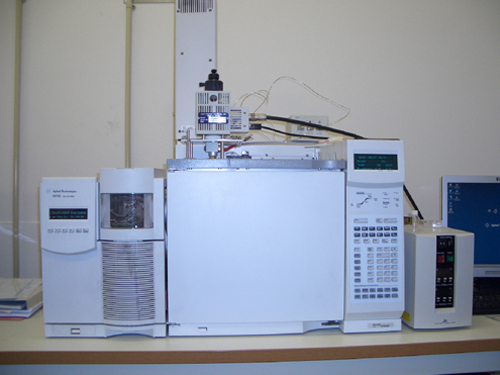 We can analyze both inorganic and organic substances, and we provide accurate analysis results based on our abundant experience. Pyrolysis-GC / MS can pyrolysis products and characterize polymers.
Analysis type
Device name
Measurement content
Organic composition and ingredient analysis
FT-IR (Fourier Transform-Infrared Spectroscopy)
Component analysis
Time Based FT-IR (ATR)
Component change analysis during heating
Microscopic Raman spectorometer
Component analysis

GC -FID (gas Chromatograph-Flame Ionization

Detector)
Component analysis
HS-GC / MS(Head Space-Gas Chromatograph Mass Spectrometer)
Component analysis
TDS-GC / MS (Thermal Desorption Gas Chromatograph-Mass Spectrometer)
Component analysis
Py-GC/MS (Pyrolysis Gas Chromatograph)
Component analysis
HPLC (High Performance Liquid Chromatograph)
Component analysis
LC-MS / MS (Liquid Chromatograph -Tandem Mass Spectrometry)
Component analysis
GPC (Gel-Permeation Chromatography)
Molecular weight distribution measurement
Karl Fisher Moisture meter
Moisture content
High-precision gas / vapor adsorption measurement instrument
Specific surface area / pore distribution (nm) / measurement adsorption amounts
Potentiometric Titrator
Titration analysis
Inorganic composition and structure analysis
XPS (X-ray photoelectron spectroscopy)[with C60, Ar sputter]
Top surface element analysis device
ICP-MS (Inductively-Coupled Plasma- Mass Spectrometer)
Elemental analysis
ICP-OES (Inductively-Coupled Plasma-Optical Emission Spectrometer)
Elemental analysis
Microwave digestion system
Pretreatment device
XRD (X-Ray Diffractometer)
Crystal / structure analysis
XRF (X-Ray Fluorescence)
Elemental analysis
Impurity ion analysis
Oxygen combustion in closed systems
Pretreatment device
IC(Ion Chromatograph)
Ion component measurement
PH meter
PH determination
Electric conductivity meter
Electrical conductivity measurement
Taking measurement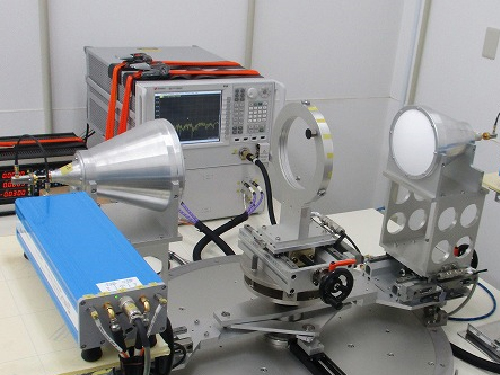 Physical properties such as mechanical, heat, and electricity can be measured. High frequency [18-110 GHz] permittivity and permeability can also be measured.
Analysis type
Device name
Measurement content
Thermal analysis
TG / DTA (thermogravimetric / differential thermal analysis)
Thermal weight loss measurement
DSC (differential travel calorimeter)

Calorific value change measurement

(melting, glass transition, thermal history, crystallization, hardening)
Modulated DSC

Calorific value change measurement

(melting, glass transition, thermal history, crystallization, hardening)
Mechanical property analysis
Tensilon (universal tensile tester)
Tensile test
TMA (thermomechanical analysis)
CTE measurement
Rockwell hardness tester
Hardness determination
DMA (Dynamic Compression Rate Measuring Device)
Determination of heating rate
Dispersion measurement
Zeta potential measuring machine
Zeta potential measurement (dispersion / aggregation of particles)
Measurement of electrical conductivity and permeability
Permittivity / permeability measuring device (free space method: 18G-110Ghz)
Measurement of electrical conductivity and permeability
Permittivity / permeability measuring device (inductance method: 1M to 1GHZ)
Measurement of electrical conductivity and permeability
Permittivity / permeability measuring device (parallel plate method: 1M-1GHz)
Measurement of electrical conductivity and permeability
Permittivity / permeability measuring device (cavity resonance method: 1G, 2G, 10G, 20GHz)
Measurement of electrical conductivity and permeability
Apparatus for measuring electrical conductivity and permeability (KEC method: 1M to 1GHz)
Measurement of electrical conductivity and permeability