Observing laws and regulations and acting in accordance with corporate ethics is a major prerequisite for fulfilling corporate social responsibility (CSR).
In TOMOEGAWA, the Group is working to further enhance its corporate governance and internal control systems and to create a system in which employees can work with satisfaction and peace of mind.
Corporate Governance System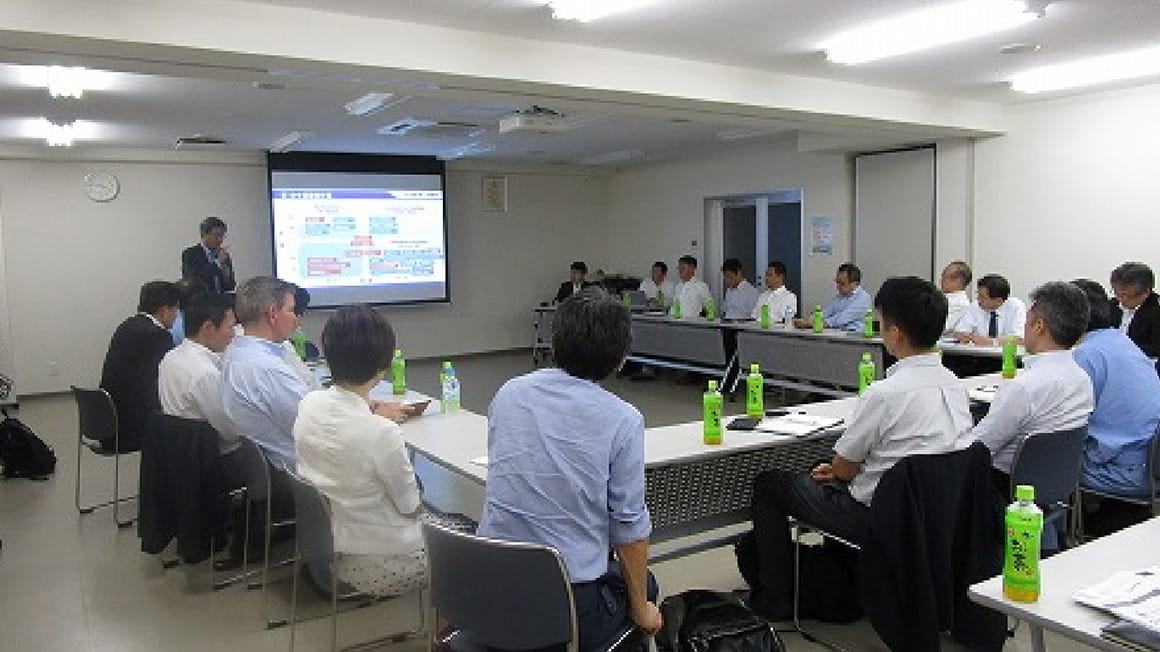 TOMOEGAWA respects the interests of all stakeholders who support its corporate activities and aims to be an excellent company that contributes to society by increasing corporate value through sustainable growth.
To this end, we have adopted the "Audit and Supervisory Committee" structure. We believe that ensuring and further enhancing management efficiency, transparency, and fairness through corporate governance is an important issue, and we are working to enhance the speed of decision-making by actively disclosing information, clarifying roles and responsibilities, and strengthening the objective checking function.
Internal Control Initiatives
TOMOEGAWA has established a basic policy for internal control and is working to establish a system for it. In order to respond to the increasingly complex issues of compliance and risk management that arise as a result of overseas expansion, we clarified the responsible departments for each category and changed the system to one in which these departments are responsible for implementation.
In addition, we established the Audit and Supervisory Committee Office to support the duties of the Audit and Supervisory Committee, and has shifted its internal audit functions.
We are also reviewing the establishment of cross-sectional control rules for internal control at the group level.
Compliance Activities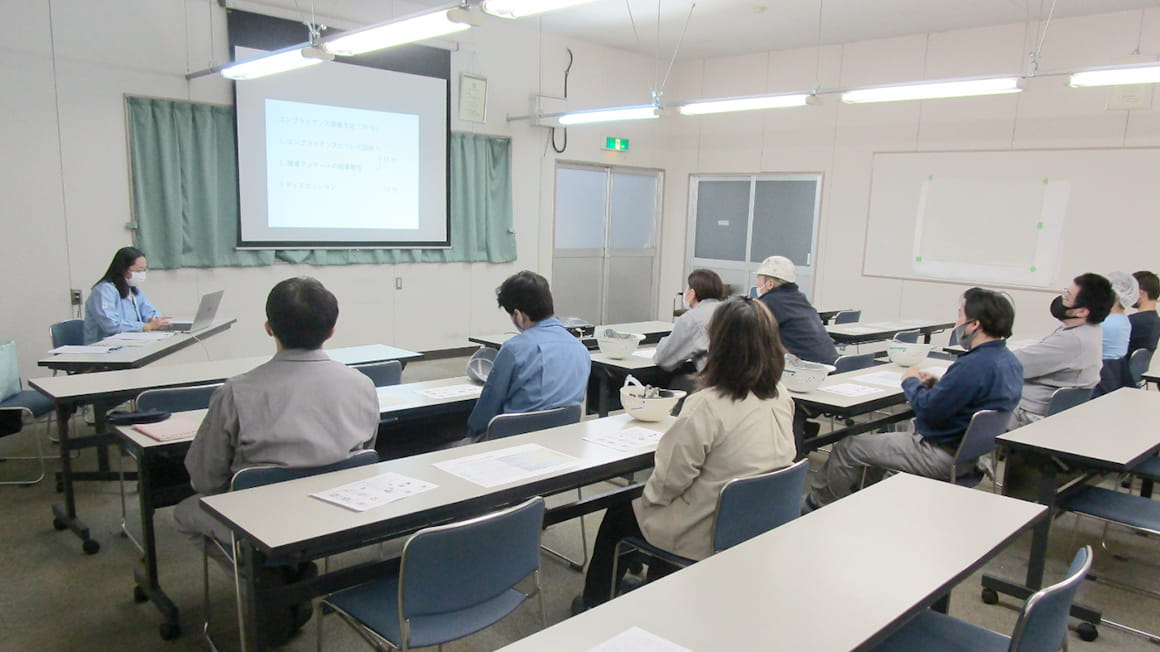 TOMOEGAWA established the Regulations for Management of Confidential Information to protect and appropriately manage confidential information obtained from third parties, including our business partners, and has been working to review the management methods in a timely manner.
We established internal rules in accordance with Act on the Use of Numbers to Identify a Specific Individual in Administrative Procedures (My Number System) and the revised Act on the Protection of Personal Information. In addition, we provide information to all group companies.
We established an internal system that complies with Act on Comprehensively Advancing Labor Measures, and Stabilizing the Employment of Workers, and Enriching Workers' Vocational Lives as amended in May 2019 and made it known to employees. We also started training activities for group companies.
Internal reporting system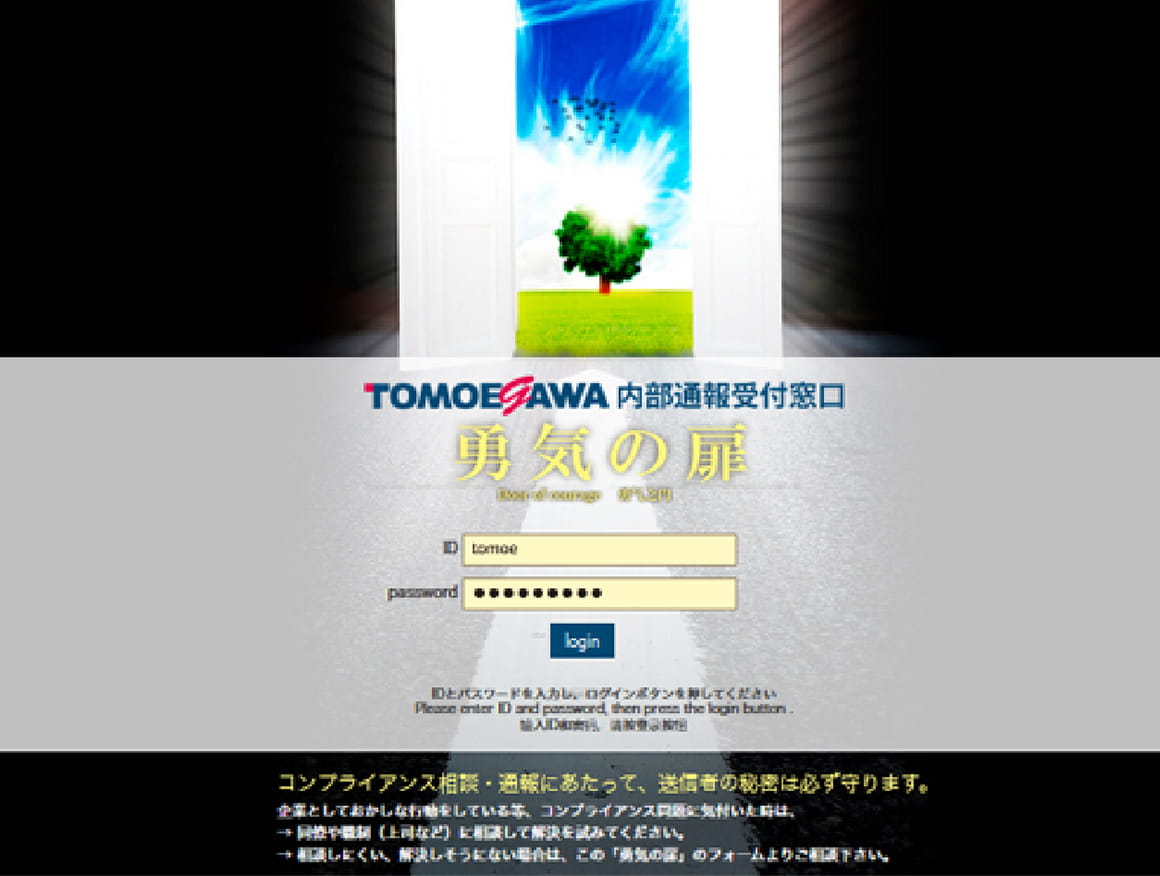 The "Door of Courage" has been set up for the whistleblower. We provide e-mail, in-house email, and the letter box for consultation and reporting. The contact points are the in-house consultation desk, outside directors, and attorneys.
For the purpose of disseminating this whistleblowing system, we implement "experience reporting" (simulated reporting) once a year to all employees of our company and domestic group companies.
In addition to strictly protecting the confidentiality of consultations and reporting, TOMOEGAWA has established an internal system in accordance with the Whistleblower Protection Act to ensure that there is no disadvantage to the whistle-blower.