New Business Promotion Products
Cellulose Fiber Compounded GREEN CHIP CMF
Plant-derived cellulose fiber can be highly compounded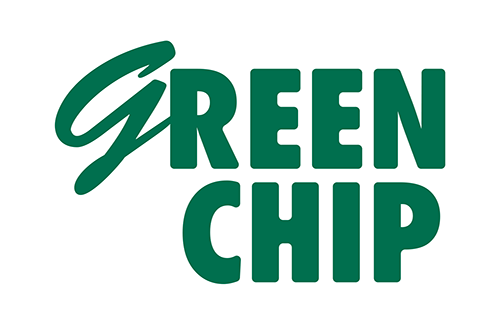 GREEN CHIP CMF is a biomass plastic material that utilizes wood pulp, a biomass material. It is highly dispersed and highly compounded with nano to micro-sized cellulose fibers, enabling adjustment of fluidity during molding. It is an environmentally friendly new material with excellent moldability and strength enhancement while reducing plastic.
※GREEN CHIP CMF is the product jointly developed with FP Chemical Industries Co., Ltd.

It can meet the following needs of customers.

Due to global environmental issues such as ocean plastic pollution and global warming, we want to reduce the use of petroleum-derived resins.
We want more environmentally friendly resins that contribute to reducing CO2. We are looking for plant-derived materials as an alternative to plastic.

As a raw material for pulp, wood absorbs carbon dioxide and releases oxygen through photosynthesis during the growth process. That's why it can reduce the total amount of carbon dioxide and curb global warming.
In addition, our unique compounding process improves the cellulose fiber dispersibility and the resin fluidity. Our technology allows us to increase the content of cellulose fibers and significantly reduce the use of petroleum-derived resins, making it an environmentally friendly material.
---

We want a material that could be used for injection molding with good resin fluidity while having a high biomass content.

GREEN CHIP CMF can control MFR (resin fluidity), so there are some types that can be used for injection molding even with a cellulose content of 55%.
---

We want to increase the strength of a molded product (polypropylene (PP resin)), make it thinner or lighter.

Compared with polypropylene (PP resin), you can manufacture thinner and lighter shaped products with GREEN CHIP CMF due to its greatly improved strength and heat resistance.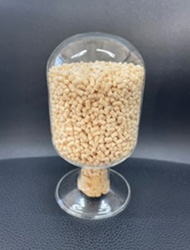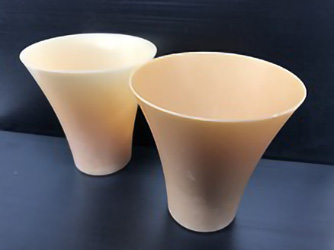 Feature 1

Environmental Friendly
Enable high content of cellulose fibers (biomass materials)
Reducing the use of petroleum-derived resins=Plastic reduction.
Recyclability: Compared with glass fiber reinforced resins, the strength property of GREEN CHIP CMF has less deterioration (attenuation) than glass fiber reinforced resins. It means that GREEN CHIP CMF is suitable for Circular Economy.
CO2 Emissions: Compared with polypropylene (PP resin) that does not use cellulose, even the addition of 10% cellulose contributes to the reduction of CO2 emissions.
In addition, measures such as recycling and shortening the cycle time are expected to further reduce CO2 emissions.
AB, LB, and LX types have acquired biomass mark certification.
What is "BIOMASS MARK"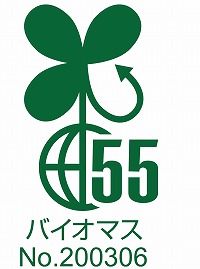 BIOMASS MARK is the certification with Japan Organics Recycling Association.
It is the mark of environmental goods that utilize biological resources so-called "biomass", and it complies with the laws, standards and regulations for the related to quality and safety.
Feature 2

Excellent Moldability (Easy To Mold)
Improve resin fluidity → improve moldability. Even if the cellulose content is as high as 55%, the MFR value (resin fluidity) can be well controlled through our unique compounding process. Injection molding and extrusion molding are possible.
Due to its high dispersion, besides polypropylene (PP resin), it can also be compounded with other resins, such as polyethylene (PE resin) and elastic polymer.
Feature 3

Material Properties
Compared with unreinforced polypropylene (PP resin), by compounding cellulose fibers, the tensile strength is increased by about 2 times, the flexural strength is increased by about 2.3 times, the flexural modulus is increased by about 6.3 times, and the deformation temperature under load (heat resistance) is increased by about 1.5 times. These can make molded products lighter.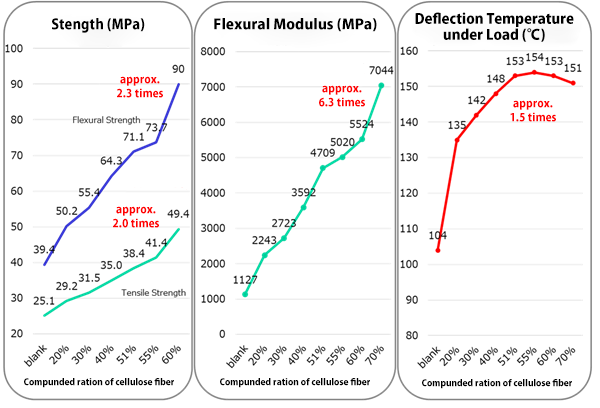 Dimensional stability is improved by compounding cellulose fibers.
Unique textures can be produced according to molding conditions and artistry is high. It can also be colored.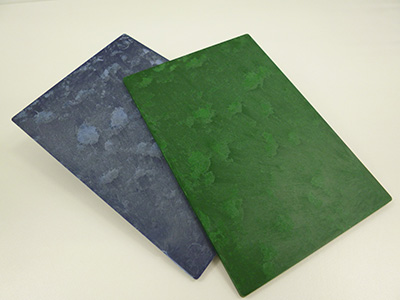 Printing performance: Generally, olefin resins are difficult to print directly, requiring special surface treatment or decorative film lamination. In case of GREEN CHIP CMF, by roughening the surface of the product, the fibers are raised on the surface and high adhesion strength can be obtained.


Frequently Asked Questions:
Pulp-derived reinforcements include Cellulose Nanofiber (CNF) that is defibrillated into nano-sized cellulose. How is your product different from CNF?
CNF is considered to require a large amount of energy for defibering. GREEN CHIP CMF is produced differently, with a lower cost and less environmental impact. It also has better injection moldability, and the cellulose fibers are more dispersible, allowing for a higher content ratio.
What are the heat-resistant and cold-resistant temperatures?
Please contact us.
What kinds of products are available?
Including grades under development, we have general injection grade (low odor type), high impact grade, PE grade, flame retardant grade, and general extrusion grade. It can also be compounded with other types of resins. If you have any questions about resins, please contact us.
Can it be used in food grade plastic products?
Both general injection grade (low odor type) LB55 and LX55 meet the standard criteria for food and additives. (Ministry of Health and Welfare Notification No. 370).
What is the supply method?
Basically available as pellets. Packaging of mass products: 25Kg/bag. If you need samples, please feel free to contact us.
Is it possible to recycle?
In our in-house testing, we evaluated a sample that was crushed and reshaped five times. The attenuation rate was superior to glass reinforced resin.
Are there any precautions that should be taken during molding?
Injection molding conditions are almost the same as those for general polypropylene, but please consult us for details.
Applications
【Transportation Field】
Automobiles (Interiors), Aircrafts (Interiors), Ships, etc.
【Household Appliances Field】
Electronic Equipment such as Smartphones, White Goods, Inspection and Evaluation Equipment, etc.
【Building Materials Field】
Housing Interior Decoration, Bathroom, Pipes, etc.
Example of use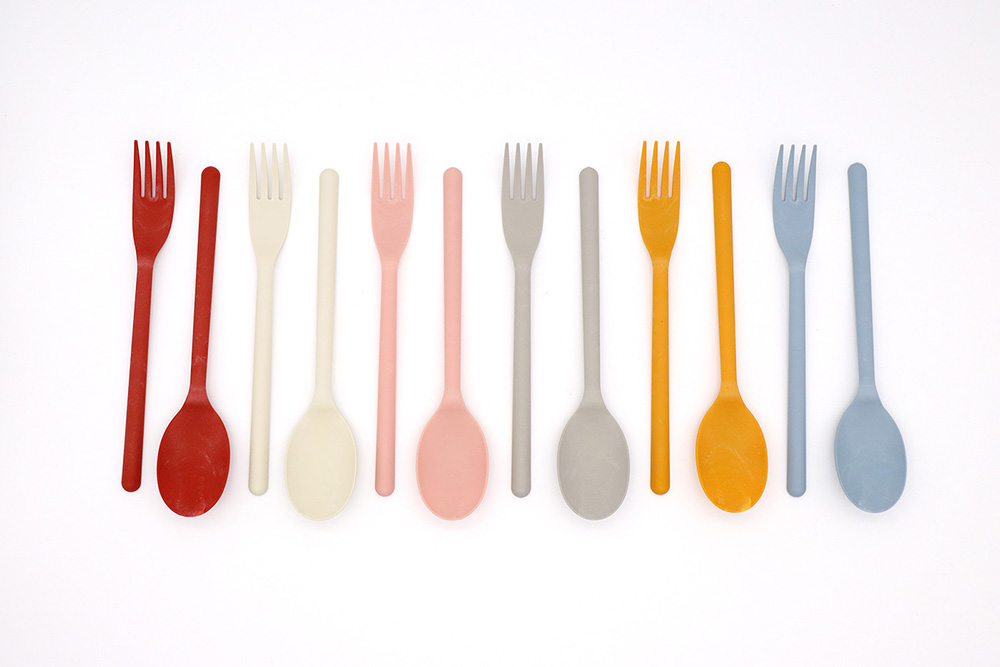 Carton (Cash Trays) by various financial institutions
"Nogakel" Tableware by FURUTA Kasei
Mug Cups by Outdoor store SWEN (Encho Co., Ltd.)
Chopsticks by MASUDA PLASTIC & CHEMICALS. INC.
The Goals of GREEN CHIP CMF
We are making efforts to reduce plastic usage, reduce CO2 emissions, and create a recycling-oriented society through the wise use of energy and resources.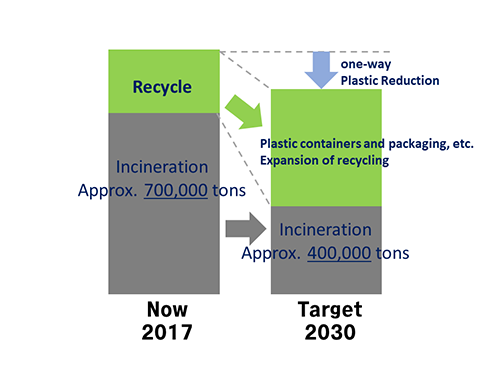 The Goals of Japan
Reduce one-way plastic by 25% on a cumulative basis
Reuse and recycle 60% of plastic containers and packaging, etc.
The Goals of Tokyo
In addition to national goals, Tokyo Metropolitan Government sets its own goals from the perspective of waste disposal.
40% reduction in incineration of waste plastic from households and large office buildings.
Fiscal 2030 Recycling Rate Target in Tokyo Metropolitan Resource Circulation and Waste Disposal Plan
General waste recycling rate: 37%
Excerpted from "Plastic Reduction Plan - Achieving Sustainable Use of Plastics" issued by the Tokyo Metropolitan Bureau of Environment
Recycling Society
We aim to create a society that reduces the consumption of natural resources and minimizes the environmental burden by reducing the generation of waste and properly recycling and disposing of it.