Electronics Products
Adhesive Tape for QFN
Hybrid adhesive tape contributes to higher density and smaller size of electronic devices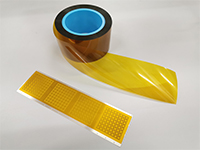 Adhesive tape to prevent resin leakage is required when assembling a small package such as QFN(Quad Flat Non-lead)package during the molding process.
We supply it to customers under the name "Elephane A-T5", which is a combination of heat-resistant film and adhesive.
Feature 1

No mold bleed
It has a stable adhesion at high temperature.
Feature 2

No tape residue
The adhesive is with heat resistance and plasma resistance.
Feature 3

Good W/B workability
The adhesive is with high elastic and non-silicon.
Application
It is used for QFN, discrete, LED package etc. assembly.