Electronics Products
Lead Frame Fixing Tape

Tomoegawa electrical insulation tape / fixing tape for lead frames is a highly reliable thermosetting product developped by ourselves, which combines high insulating adhesive and base material with excellent characteristics.
For lead frame fixing applications that are incorporated into IC packages, it is used worldwide as a world standard product that can be expected to improve workability during IC mounting.
It can also be used for electrical and electronic parts, precision parts, jigs for devices that require insulation and fixing.
Feature 1

High thermosetting insulation
High electrical insulation
Low concentration of ionic impurities
High adhesive strength that can withstand the heating process during IC package assembly
Feature 2

Easy workability for fixing lead frame
Thermosetting adhesive makes it possible to attach at low temperatures
Designed to be cured during the heating process when mounting the IC, so that no adhesive curing process is required
Application
For fixing lead frame of IC package
For fixing / insulating electrical/electronic parts, precision parts, equipment, etc.
Specification
| | |
| --- | --- |
| Product name | R-970 |
| Polyimide Film[Base film](Thickness) | Kapton 200EN(50um) |
| Adhesive(Thickness) | Thermosetting(20um) |
| Cover Film(Thickness) | PET(25μm) |
Layer structure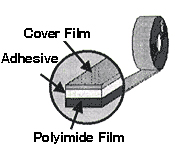 Taping Condition
| | |
| --- | --- |
| Parameter | Range |
| Temperature | 120℃~240℃ |
| Time | 0.1sec~5sec |
※R-970 can be used under the same conditions (however, the optimum usage conditions will vary depending on the lead frame design, crimping method, etc.)
Property