Electronics Products
Adhesive Tape for TAB
Adhesive tape for TAB that has high electrical reliability, high adhesiveness and chemical resistance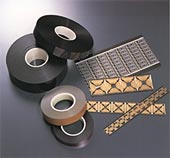 Adhesive tapes (film carrier tapes) for TAB are excellent in high density of copper wiring, and have been used for interposers (rewiring boards) such as LCD driver boards, memory, CSP and DSP devices.
TOMOEGAWA provides the 3-layer TAB adhesive tape consisting of a thermosetting adhesive and a polyimide film, under the name of "Elephane FC".
With its excellent electrical insulation reliability and chemical resistance, its application is expanding to flexible substrates for inkjet printer heads.
Feature 1

High electrical insulation reliability
The adhesive with excellent migration resistance and high electrical reliability supports well in a fine-pitch flexible circuit board.
Feature 2

High chemical resistance
The cured adhesive exhibits extremely high chemical resistance against acids, alkalis, solvents, etc.
Application
IC package(for driving LCD), BGA, CSP substrate