Specialty Papers
Water Absorption Paper(Shinsen-Taro)
Water-absorbing sheet that keeps foods fresh and easy to dispose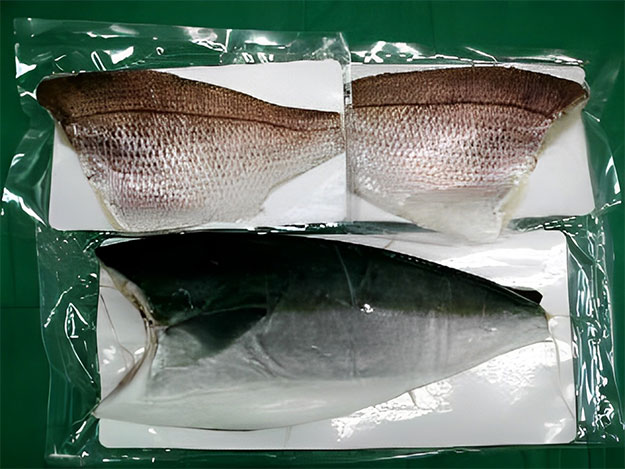 Water-absorbing paper (Shinsen-Taro) is a product developed to keep fresh food. The drip which comes out from fish and meat is absorbed. In addition, it is excellent in water retention power, so you can keep your vegetables fresh.
After use, it can be removed easily and disposable.
Feature 1

Water absorption effect
Quick water absorption.
Excellent water absorption, and the water-absorbing surface is so smooth that it prevents freshness deterioration.
Water-absorbed drip does not extoll outside.
Feature 2

Safe and clean
Surface for PP film processing, good food separation.
Very clean because adhesives are not used.
Feature 3

Easy
Handle and excellent workability.
Application
It is mainly used as a fresh fish fillet mount, but it can also be used as a tray such as fresh fish, meat, vegetables, tempura, fried food, or as an insole of rattan basket.
Data
| | |
| --- | --- |
| Basis Weight(g/㎡) | 165 |
| Thickness(mm/1000) | 300 |
| Water Absorption(g/㎡) | 251 |
| Salt Water Absorption(g/㎡) | 240 |
| Water Retention(g/㎡) | 223 |
※This is not a guaranteed value but a central value.
| | |
| --- | --- |
| Water absorption measurement method | Put 10x10cm test piece into, pure 1 liter water or 0.9% saline 1 liter water for 15 minutes, and then remove excess water by hanging for 1 minute to measure the weight. |
| Water retention measurement method | Put 10x10cm test piece into, pure 1 liter water for 15 minutes, and then remove water centrifugal dehydration to measure the weight. |
| Safety | The surface pearl film is compliant with Polypropylene Ministry of Health and Welfare No. 370, and no hazardous substances were detected or produced. |