Functional Sheets
Fluorocarbon Fiber Sheet
Original sheet ideal for filtration and separation, electrical and electronic use, etc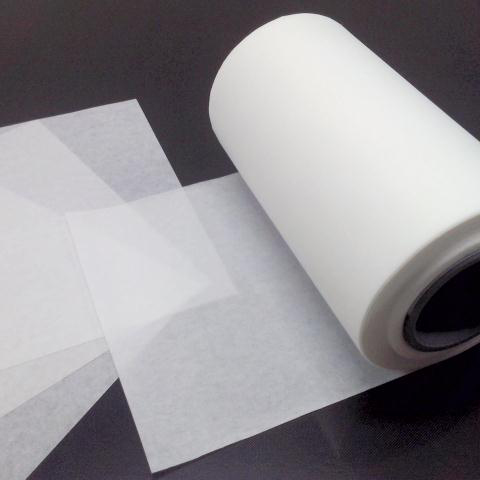 Tomoegawa's fluorine fiber sheet "Tommy Filec F" is a polytetrafluoroethylene (polytetrafluoroethylene = PTFE) 100% fiber developed by applying wet papermaking technology and heat treatment technology, which is only manufactured by our company in the world. It is a porous thin leaf sheet.
Feature 1

Maintains the properties of fluororesin
Binderless porous thin sheet. 100% PTFE.
Excellent heat resistance and can be used continuously up to 260 ℃.
Excellent electrical characteristics (low dielectric constant and dielectric loss tangent, insulation)
Excellent properties such as flame resistance, non-adhesiveness, weather proof, non-toxicity and low friction coefficient.
Feature 2

Utilizing TOMOEGAWA's papermaking technology
The texture is uniform. Realizes a thin sheet with a better texture than dry type sheets.
Contains no impurities. Contamination is less than 1PPM.
Sheet thickness of 50-1000μm and weight of 60-800g / m2 are possible
Pore diameter (pressure loss) can be controlled (10 to 50 μm) by selecting fiber diameter and thickness.
Feature 3

Customized on your request
Sheets with different fiber diameters can be laminated to create a graded pore size structure
Mixed with glass fiber, carbon fiber, etc.
Application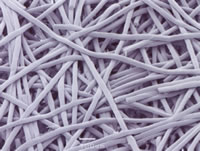 For filtration separation
・Pre-filter material for precision filtration
・Support material for membrane filter
・Oil water separation membrane
・Filter material for scientific instruments
・Filter material for EOG
For electrical and electronic
・Low and high dielectric constant printed circuit board materials
・Cable materials for wire coating
For lighting
・Light diffuser for lighting
Separate (release) material
・OA equipment related parts
Data
Characteristics of Tommy Filec F Standard product (Table 1 below)
Item
Unit
R-250
R-350
Fiber diameter
μm
35
35
Basic weight
g/m2
190
286
Thickness
μm
250
350
Density
g/cm3
0.76
0.82
Tensile strength
MD kg/15mm
5.9
11.8
CD kg/15mm
3.9
7.8
Bubble point method
Max pore size
μm
125
102
Ave pore size
μm
41.8
35.2
Min pressure
kPa
0.36
0.54
The data are typical or measured values, not guaranteed ones.