Functional Sheets
Thermal Recording Paper
Thermal paper widely used for labels and facsimile paper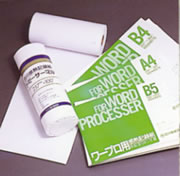 Thermal Recording Paper is a recording media that uses heat as recording method. Leuco dye and oxidative substance are applied on a base paper and by applying heat, both are melted and mixed to form an image. It is one of the widely used products because of its compact recording device and easy maintenance.
Tomoegawa is also working on the development of next-generation recording media by applying the know-how we have cultivated in the recording media we have released to the world.
Feature 1

Customizable
Printers, fax machines, cashier machines, order terminals, etc. can be customized according to the model used.
It can also be combined with other media such as magnetic products.
Feature 2

High quality
With a protective layer, it has excellent durability.