Functional Sheets
Laser Printer Paper
Printer paper that does not need lamination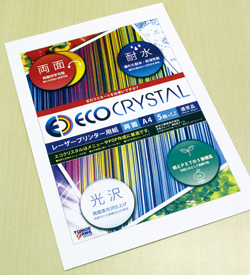 "ECOCRYSTAL Laser Printer Paper" media is a multipurpose output media for Color/Monochrome Laser printers or photocopiers. It can be used by simply printing with a laser printer, without the need for laminating after printing. This hybrid sheet is a combination of the paper processing technology we have cultivated in papermaking to meet the demands of the market, and the experience and knowledge of the printer mechanism as the world's largest manufacturer of toner. ECOCRYSTAL is double side printable and has a wide variety of usage.
Feature 1

Water resistant and without laminating
ECOCRYSTAL maintains excellent water resistance and shape stability by sandwiching the paper between PET films.
Without laminating, ECOCRYSTAL can be used safely in harsh environments such as outdoors, around water, or in freezer.
Data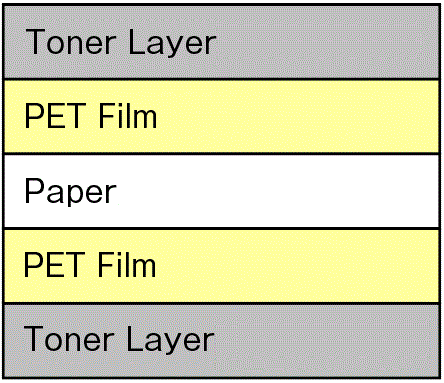 Thickness 205μ, Basis weight 230g / ㎡
Application
POP, swing POP, craft POP
After printing on Eco Crystal which is firm and hard to tear, you can freely cut it with a scissors or a cutter, and the POP's design depends on your image! Of course, since it is water resistant, so you can use it in a freezer, refrigerator, or around water where there is condensation.
Menu
It has glossy surface and can be printed on both sides, so menus can be made easily. Eco Crystal can be perforated in advance to let you fold it into different size, not only in half but also in three. Therefore, you can simply print and fold it to create a simple menu. Moreover, since the corners are removed, you will not be injured.
Banners, posts, show cards, etc.
Some have perforations in advance, so you can easily make name cards, price cards, and POP. You can also use the whiteboard markers to easily write and erase, so you can create handwritten boards.
Detailed features of ECOCRYSTAL
Double-sided printing possible: Double-sided printing is possible with a uniform paper structure on both sides.
Double-sided high-gloss finish: High-gloss coated finish on both sides provides even more vividness
Excellent water resistance: High water resistance and humidity resistance enable versatility anywhere
Outstanding Durability: Due to its high durability in various environments, it can be used outdoors even under direct sunlight and in cold/freezer conditions. High durability against curl, tearing and UV
Excellent paper transportability: By controlling the electrical resistance characteristics of the paper surface, excellent paper transportability inside the machine during printing is achieved.
Environmentally friendly products: Eco Crystal laser printer paper can be disposed as paper dust.
ECOCRYSTAL handling
When using ECO CRYSTAL, please read the precautions on this sheet and the instruction manual of the laser printer/copier and use it correctly
How to use ECOCRYSTAL
Paper for exclusive use in laser printers (monochrome/color) and copiers (monochrome/color) including multi-function machines.
The paper has no front and back sides. Both sides can be printed.
The paper feeding method, paper ejection method, and paper setting differ depending on the model.
After printing, you can cut it to any size with an automatic cutting machine, scissors, etc
Precautions for use
Do not use other than compatible devices. It may cause equipment failure.
Be careful not to cut your hands on the edges of the paper.
Do not touch with water or oil before printing, as this may affect print quality.
Fan the paper well before loading it in the bypass tray.
If you are loading multiple sheets of paper and the paper feed does not go smoothly, load them one by one.
Do not use bent paper or paper with perforations. It may cause equipment failure.
The print quality may not be stable depending on the printing environment.
Depending on the printing environment, feeding may not be smooth.
Printed paper may be warped.
If you stack a lot of paper ejected to the tray, the paper may stick to each other. Remove it early.
Do not rub printed materials with sharp objects. The toner on the paper may peel off.
Try to avoid stacking the papers just after printing.
Precautions for storage
After opening, return unused paper to the package and store it tightly before using it as soon as possible.
Keep away from high temperature, high humidity and direct sunlight.
Do not place heavy objects on the paper or apply pressure to it
Other
Company names and product names are trademarks or registered trademarks of each company.