Functional Sheets
Magnetic Ticket
Used for magnetic thermal recording in addition to transportation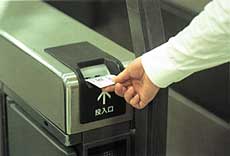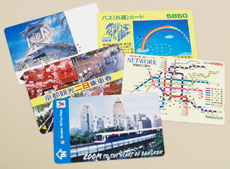 Our company has expanded the product line such as magnetic commuter pass for domestic transportation and magnetic pass ticket for highways, starting with being adopted as a magnetic ticket for automatic ticket gates at the time of Sapporo Olympics held in 1972. At present, by combining thermal recording technology with magnetic media, we are able to meet the needs of our customers by being widely used not only in Japan but also in fields other than transportation.
In addition, by applying magnetic coating technology for magnetic tickets and recording technology to paper and film substrates over many years, we offer various prepaid cards that meet the needs of our customers. We have an integrated production line that covers coating, printing, and card punching, and we are highly trusted by the industry by making full use of advanced production technology.
Feature 1

Combining both visible and invisible recording
Combining thermal recording technology with both visible and invisible recording
High coercivity type and low coercivity type are available depending on the application.
We have a protective layer type that is convenient for stamping.
Feature 2

Customization and security functions is available depending on the application
Realizing high anti-counterfeiting effect by security function with full use of printing processing technology
Feature 3

Recyclable multi-layered structure
The product can be manufactured as recycled paper by improving the paint formulation
Application example
Passenger ticket, parking ticket, expressway ticket, point card, commuter pass, various admission tickets
List of various technologies
We provide various combinations to meet the customer's needs.
Coercivity
Magnetic layer coating method
Various recording layers
Other processing
High coercivity
Low coercivity
Whole surface magnetic coating
Magnetic tape
Magnetic printing
Thermal transfer dot impact
Thermal recording
Optical fixation thermal recording
Metal destruction thermal recording
Diazo
Magnetic bar code
Optical bar code
Background pattern printing
Self-cleaning
Magnetic surface color printing processing