Insulating paper product
Electrical Insulating Paper
Electrical insulating paper for ultra-high voltage power cables, power distribution, and UHV transformers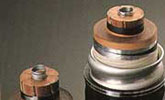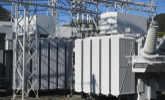 TOMOEGAWA's electrical insulation paper was successfully domestically produced for communication cables in 1914 and power cables in 1916.We have developed insulating materials that are suitable for various applications with the knowledge of tree species selection, pulp washing, deionized water, mechanical properties.In addition, we have also developed PPLP that has passed the test of 800kV cable, which is made by bonding insulating paper to polypropylene resin.
Electrical Insulating Paper of TOMOEGAWA is used for oil immersed transformer. In Japan, our insulating paper is used in most of power distribution cable and ultra-high voltage transformer.Our insulating paper is used not only in Japan, but also all over the world such as South Korea China, Thailand, Indonesia and India.Thermally Upgraded Insulating Paper ,Crepe Paper and High Elongation Paper are also available. We select pulps that are suitable not only for electrical characteristics but also for paper winding on copper wires.
Feature 1

TOMOEGAWA is proud of its electrical insulation control technology
We have accumulated various technologies since it was first developed in Japan.
We develops manufacturing and sales not only in Japan but also overseas.
[H P]

TOMOEGAWA Aura India Pvt. Ltd.
Feature 2

Reflecting TOMOEGAWA's papermaking technology
Low ionic impurities due to the use of deionized water.
Excellent resin impregnation and oil impregnation
Large vertical tensile strength, extremely low paper breakage even with high-speed paper winding machines
High strength of dielectric breakdown
High tear strength in the lateral direction
Low density and high air permeability
Small difference between the front and back
Feature 3

We can customize according to application and function
Thin paper(32g/ m2-40μ)can be produced.
Combining different pulp
Three-layer structure is possible.
Compatible with equipment and condenser applications
Application example
Cable
Transformer
Power distribution oil transformer
Ultra-high voltage oil-immersed transformer
High-efficiency oil transformer (top runner)
Reactor
For wire insulation, interlayer insulation, lead tubes, and insulation of joints above.