New Products
Sound Transmission Sheet
New material that prevents wind noise and transmits clear sound
Since it uses a weather resistant material, it is ideal not only for indoor applications but also for outdoor wind protection.
It is also possible to add water repellency without changing the acoustic characteristics.
Feature 1

Transmitting sound while suppressing wind noise
The left graph shows the sound pressure when wind is applied to the microphone. Although the sound pressure due to wind noise is detected high in a microphone without a sound transmission sheet, the effect of wind noise can be reduced by protecting the microphone with a Total Transmission Panel.
The right graph shows the acoustic characteristics with a sound transmission sheet between the speaker and microphone. It can be observed that the acoustic characteristics are almost the same with or without Total Transmission Panel.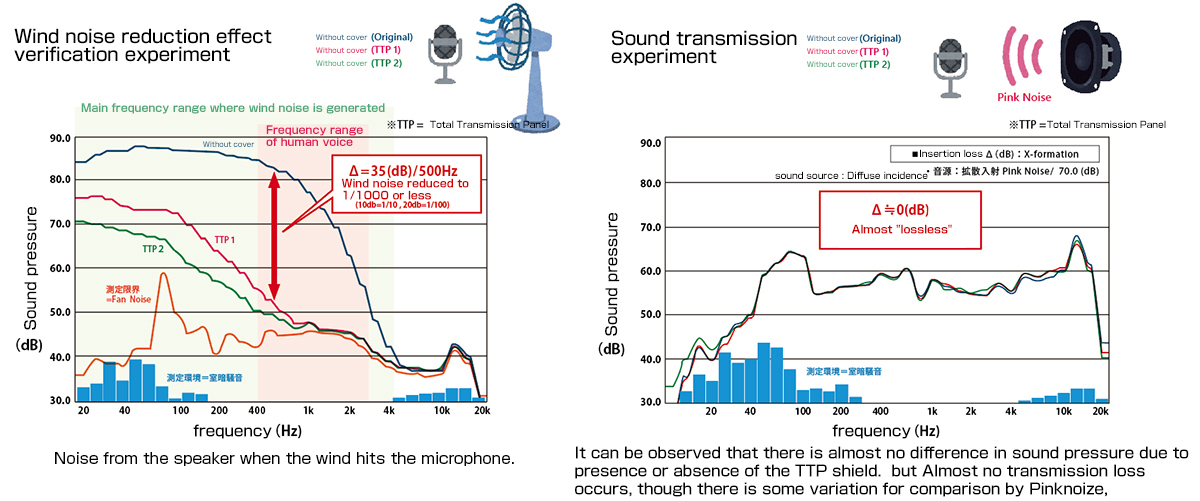 Feature 2

Windshield that can be water repellent and downsized
Conventional windshields (such as urethane materials) will have poor acoustic performance if they contain water, but a Total Transmission Panel will improve water repellency and withstand some wind and rain environments.
Feature 3

Processing to match the shape of microphone and audio equipment
Water repellent treatment is possible without changing the sound quality. In addition, it is possible to perform molding processing such as contour shape.
We can provide a module that is combined with a microphone.
Application
Windshield for sound collecting microphone in the field
Wind noise prevention filter for audio equipment
POP noise prevention filter